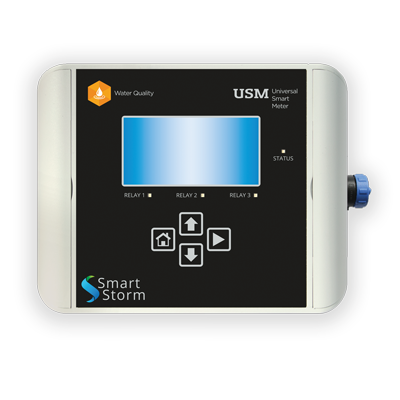 Whether it is BOD/COD measurement for aeration management, chemical dosing or monitoring your UV disinfection performance, UV254 measurement will provide you with a fast, responsive and cost effective means of optimising your process.
In common with all Smart Storm products the USM has been designed with the user in mind. It's four button keypad allows fast and simple programming. The intuitive menus guide the user through clearly worded choice fields and help the user to navigate to a successfully programmed unit in a matter of minutes.
USM BOD/COD Probe: small footprint probe with 39mm diameter. The probe can be configured with either a 2mm, 5mm, 20mm or 50mm path length depending upon the water quality and measurement requirements. Self monitoring and fouling compensation ensures a long time between services. The stainless steel housing for the probe and flow cell are suited to use in dirty water. The flow cell has a special cleaning port for use with a jet wash system. Investigate trends and upsets with data storage that records every measurement.
Modern Control Unit: display results, trend and alarm data in real time for multiple parameters simultaneously on a colour display control unit with a touch screen interface.
Data Review: 20 year data logger. See a graphical review of trend data. Easily transfer Excel-compatible CSV output files.
Advanced Optics and Electronics: long life pulsed UV LEDs ensure an extended service life and have none of the decay issues associated with mercury lamp analysers.
Features
Low cost COD BOD meter
Quick and simple user-friendly programming
Optional 20-year data logger
PC based reporting software
IP 66/4X wall mounted weatherproof enclosure
3 programmable relays
4-20mA output
Applications
Wastewater analysis
Clean water analysis
Chemical analysis
Aeration management
Aquaculture
Chemical dosing control
Explore our other products
Click on a category for more details.