Innovation in Concrete Washout pH Treatment
Mobile pH Balancing for the Construction Industry
About Concrete Washout
The pH Problems of Concrete Washout
The pH of concrete washout from construction and building sites is highly caustic (pH 12-14) which makes it extremely damaging to the environment if discharged into the watercourse (River or Sea). The Environment Agency stipulate it is illegal to discharge above an acceptable level of between pH 6-9.
The same applies to concrete wagon washout to sewers or surface drains controlled by Water Companies where it is illegal to discharge below pH 6 and above pH 10.
Failure to comply may lead to substantial fines and even plant/site closure.
Because pH is a log
10

scale it is not practical to simply dilute the washouts with clean water as 10,000 litres of water would be required to get 1 litre of water down from pH 13 to pH 9.
Why Acid Treatment is Unsuitable for Construction Site Concrete Washout
Normally, in industrial effluent control, acids such as Hydrochloric, Sulphuric or Nitric are used to neutralise highly caustic effluent streams.
On building and construction sites which are often confined in the working areas and with many moving vehicles, the use of acid for neutralisation is extremely hazardous and requires safe storage, both of which are H&S risks. In addition, such systems are usually static and not easily moved around a site, require high maintenance and unless using an expensive dosing controller can lead to overshoot, thus generating an equally Toxic acid waste.
The Neutralizer – Smart Storm's Solution to Concrete Washout
Smart Storm has developed a unique mobile in-line treatment plant that uses CO2 to neutralise concrete washout.
1. CO2 dissolved in water is slightly acidic so is ideal for neutralising concrete washout.
2. CO2 self-buffers and cannot overdose no matter how much is injected so does not require a complex control system.
3. The Neutralizer is a continuous in-line system using an advanced in-line mixer so does not require batch processing as seen in other concrete skip products.
4. The Neutralizer is skid mounted and highly mobile, with a small footprint.
5. The Neutralizer is fully automated with beacons showing pH status and 'Out of Gas alarm'.
6. Integral to the Neutralizer is a flow meter and pH meter which log data that can be transmitted via the Internet.
7. Fully automated and simple to install.
8. The Neutraliser has in-built storage for 8 gas bottles.
Smart Storm's Industrial Neutralizer will solve your concrete washout pH problems
Available for Purchase or Hire
Application:
Construction and Building Sites
Concrete wagon washout
Mining
Demolition sites
Concrete paving and brick manufacturing
Mortar bucket washout
Download Brochure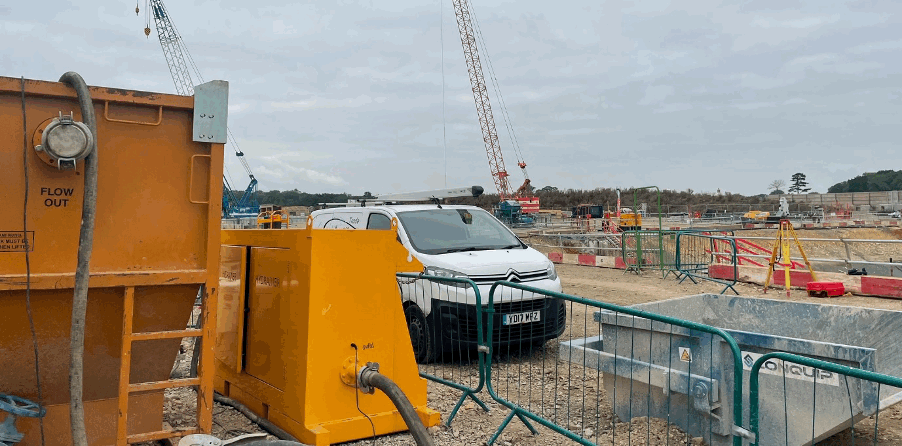 Solutions for the Water & Wastewater Industries
Click on a solution for more details.