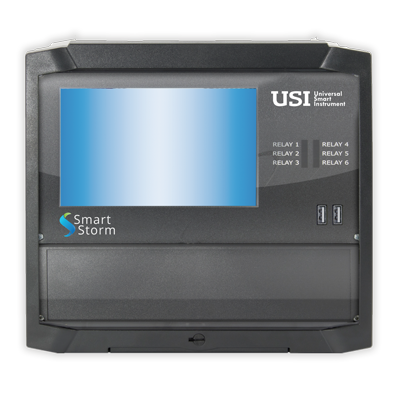 USI – Flow & Water Quality
The Universal Smart Instrument (USI) Flow and Water quality instrument is uniquely designed for waste water flow and simultaneous water quality measurement. The instrument comes standard with an ultrasonic sensor for flow measurement and an integral pH/Redox meter.
Up to 7 water quality parameters can be measured in one device, therefore several standard instruments can be replaced by a single USI. See the features and benefits below, and for full details of the USI's range of measurement and control refer to the product brochure.
Features
Ultrasonic Sensor as standard
Advanced Open Channel Flow meter with integral pH/ISE meter
Optional Turbidity, Dissolved Oxygen, Temperature and Conductivity inputs
Optional measurement of Ammonia, Ammonium, Chloride, Calcium, Fluoride, Nitrate, Potassium.
Quick and simple user-friendly programming
Integral 30-year data logger
PC based reporting software
IP 66/4X Wall mounted weatherproof enclosure
6 Programmable relays
4-20mA inputs and outputs
Applications
Trade Effluent Monitoring
Waste Water Monitoring
Drinking Water Monitoring
Water Quality Monitoring
Seawater Monitoring
Irrigation Channels
Storm Water Monitoring
Combined Flow and Water Quality Measurement
The parameters available to be measured with our USI:
| | |
| --- | --- |
| Ion Selective Electrode Choice# | Optional Modbus Choice* |
| pH | Conductivity |
| Redox | Dissolved Oxygen |
| Ammonia | Turbidity |
| Ammonium | pH/ORP |
| Calcium | Inductive Conductivity |
| Chloride | TSS |
| Fluoride | |
| Nitrate | |
| Potassium | *Note: All Modbus have integral temperature sensor measurement. #Note: Other ISE parameters available on request. |
Sensors can be either free mounted in tanks or channels or inserted into pipes using Smart Storms bespoke pipe brackets.
There is currently no videos available for this product.
The USI water quality meter comes as standard with an ultrasonic sensor and an integral pH meter.
To implement the pH meter, purchase an ISE pH sensor which will connect direct.
You can add further Modbus water quality sensors from a choice of:
pH, Turbidity, Dissolved Oxygen and conductivity. Each of these sensors has an integral temperature sensor.
One Modbus sensor can be connected directly to the USI. However up to four Modbus sensors can be connected via the optional interface box.
The USI will log all parameters measured for up to 22 years. It comes with a pc based software package and a USB stick as standard. Data can be downloaded onto
Examples:
I want to just measure flow:
Purchase:Â  USI only
I want to measure flow and pH
Purchase: USI and the ISE pH sensor
I want to measure Flow, pH and Turbidity.
Purchase: USI, the ISE pH sensor and the Modbus Turbidity sensor
I want to measure Flow, pH, Turbidity and Dissolved Oxygen
Purchase: USI, the ISE pH sensor, the Modbus Turbidity sensor, the Modbus Dissolved Oxygen Sensor and the Interface box.
Isolated 4-20mA inputs are required where the input cable may be subject to high voltage spikes either from other electrical machinery or lightening. These could seriously damage the USI and in such applications isolated inputs should be added as an option.
Explore our other products
Click on a category for more details.