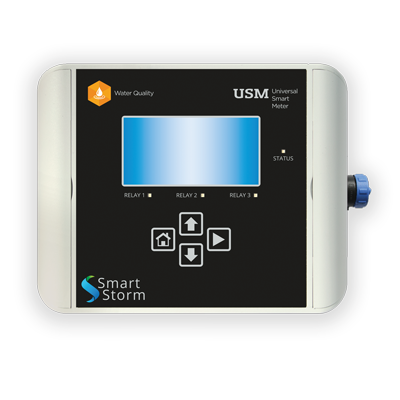 USM – Water Quality Meter
The USM water quality meter is a powerful and versatile meter that measures a wide range of environmental parameters. As standard, the USM will measure one of a number of ISE (Ion Selective Electrodes) plus an additional optional Modbus Electrode so the user can measure two parameters at the same time.
Features
Low cost Water Quality Meter meter
Range of Modbus sensors from Conductivity to Turbidity
A range of ISE measurements from pH/Redox to Potassium
Quick and simple user-friendly programming
Optional 20-year data logger
PC based reporting software
IP 66/4X Wall mounted weatherproof enclosure
3 Programmable relays
4-20mA output
Applications
Waste Water Analysis
Clean Water Analysis
Chemical Analysis
Fluoridation
Pools and Spas
Aquaculture
Chemical Dosing control
The parameters available to be measured with our USM:
Ion Selective Electrode Choice#
Optional Modbus Electrode Choice*
pH
Conductivity
Redox
Dissolved Oxygen
Ammonia
Turbidity
Ammonium
pH/ORP
Calcium
TSS
Chloride
Inductive Conductivity
Fluoride
Nitrate
Potassium
*Note: All Modbus have integral temperature sensor measurement.
#Note: Other ISE parameters available on request.
Sensors can be either free mounted in tanks or channels or inserted into pipes using Smart Storms bespoke pipe brackets.
Explore our other products
Click on a category for more details.